2019 marks the last New Year I'll begin as a 20-something. And yes, you can expect several 'last 20-something' epiphanies in the next five months.
Perhaps from a current position on the naïve side of the fence, it seems to me like the degree of change decelerates as you make your way through life.
Zero to 10: you become a person. Ten to 20: your body enters adulthood. Twenty to 30: maybe that's the decade your head and heart catch up a bit, though there's still some way to go for most of us.
In the pie chart of my 'Big 30' feelings, I'd say 70 per cent of it is fuchsia for excitement. Ten per cent is grey, in mourning for the death of my perky hangover and wrinkle free years, and the final 20 per cent is the bright warning red of trepidation – which can represent anxiety or excitement again, depending on my mood. Pink and red clash, but then so do feelings.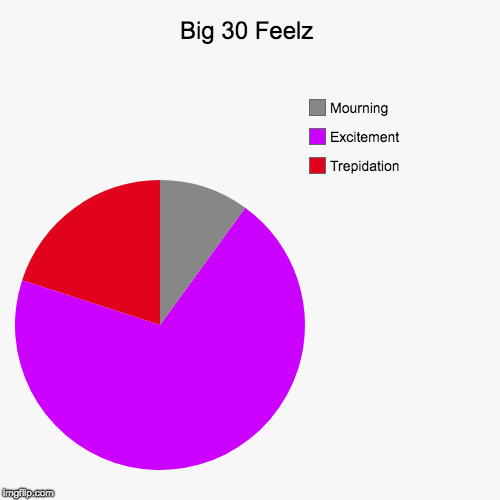 I don't pretend to be wise, at all. But there are a few tit-bits I reckon I've picked up along the way. Most of them are fairly cliche, but maybe lesson one is that cliches are often born from shared experience.
If you can't grab opportunities, make them
Not all job opportunities appear on Indeed or the careers section of Journalism.co.uk. Sometimes, you've got to go hunting.
That might mean interning in the pursuit of a job, freelancing every weekend, learning shorthand by night… or – taking a leap into the unknown. I can't say I've risked the last one – yet, but perhaps.
In journalism: never, ever email an editor and say you'd like to "write for them" – tell them what you'd like to write. And don't do it for free. Same goes in other industries, I expect.
Life is a journey, not an individual string of events
My first job was on a local newspaper. I hacked it for a year. A salary I couldn't live on, ever looming threat of redundancy and moral questions over what is really in the 'public interest' transpired to boot me out of the path I'd planned since the age of seven.
At the time, that first year felt like an unpleasant entry into working life, but in reality I learned more in 12-months than I did in my three year degree.
There's been several times during my still short career where I've felt I've been in the wrong place, or been doing the wrong thing. But I've yet to look back on any past job and feel that – in hindsight – being there hasn't formed an important part of the journey.
Only you can make yourself feel inferior
Before my life at Total Women's Cycling tumbled to its end, I wrote a series on sports psychology with the wonderful Dr Josie Perry.
During one session, I commented that often I felt inferior to the competition ahead of a race, a pretty common experience. Her reply was to remember that I was always an equal on the start line. The same applies elsewhere in life.
Google 'how to improve credit rating'
And start sooner rather than later.
Don't neglect the important ones
The 20s are a busy decade – leaving home, new jobs, maybe falling in and out of love a couple of times, at least you think.
I'm not proud to admit I neglected a few important friendships along the way. But a true bond can take the hammering of absence, and come out the end tougher and harder to  break – after a few gin and tonics and a long heart-to-heart.
Related: you can't fix everyone, but you can hold their hand.
Marriage takes work
I spent the first six months answering the question "how is married life, then?" with the same blasé response, "no different, if I'd wanted anything to change I'd not have got married." Not quite true.
Relationships are different for everyone, but in reality that first year of marriage did require adjustment. Learning to live life in partnership takes work, but doing it together brings you closer and makes you stronger.
Pee after sex. Every time.
Even if you're cosily cocooned in post-coital covers, the toilet is located at the bottom of treacherously steep stairs, and the tiles are cold? Yes, even then. Especially then. Bladder infections hurt more in cold weather (obviously this one's just for girls, I suppose..)
All things in moderation
Darker moments of my 20s include weighing myself three times during one Christmas dinner (in case of sudden turkey fuelled blimpification) and taking detailed daily measurements of every body part when the scales were taken away.
Eventually, life got in the way of obsession. Now, the once exiled foods are back on the menu. And since I'm not forbidding all nice things, I don't need to eat secret bowls of porridge at strange hours.
My mum always said; "all things in moderation." Those four words saw me through it all safely and (fairly) healthily.
No one can make you feel anything
There is no life law that says you must love anyone. Feeling as if there is breeds feelings of entrapment.
You decide who stays in your life. Realise you're in control, and any harboured resentment might soften.
Your inability to cook and contents of your kitchen cupboards may be related
I still maintain that no one needs a madeleine tray in life. But many edible creations will be easier with the appropriate cookware. You can't dig a hole with a spoon and nor can you make pancakes in a saucepan.
JFDI
Life goes really quickly. If there's something you've been pondering for years (and, ya know, it's not going to rip someone's heart out or cause total relationship breakdown…) – Just F*cking Do It.